Dissolved Air Flotation System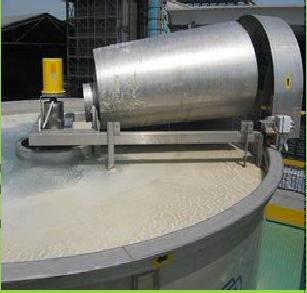 Dissolved Air Flotation System
Price And Quantity
2500000.00 - 25000000.00 INR
Product Description
DISSOLVED AIR FLOTATION(DAF) SYSTEM
Dissolved Air Flotation is a liquid/solid separation process in which microscopic air bubbles (10-100) become attached to solid particles suspended in liquid, causing the solid particles to float. In a DAF system air is dissolved into liquid under pressure. The dissolved air remains in solution until the pressure is released to atmospheric pressure, causing the air to come out of solution in the form of microscopic air bubbles. The bubbles are mixed intimately with the waste water and become attached to the solids in the waste stream causing the air solids.
Agglomerate to float to the liquid surface where a solids (float) blanket is formed. Surface skimmers then remove the float blanket.
ADVANTAGES OF DISSOLVED AIR FLOTATION (DAF) SYSTEM
Dissolved air flotation (DAF) has gained widespread usage over the last forty years for the removal of suspended solids (TSS), oils and greases (O&G), and biochemical oxygen demand (BOD) from waste water and other industrial process streams. DAF systems are frequently used to provide waste water pretreatment, product recovery, and thickening of biological solids in industries ranging from food processing to pulp and paper to petrochemicals. Years of experience in specifying DAF systems for industrial applications has shown that many engineers, designers, and end users have come to rely on DAF design information from common reference materials, such as engineering handbooks. Such reference materials base specification of DAF systems on parameters such as recycle rate and pressure, air-solids ratio, hydraulic loading, and surface loading. However, the values provided in common references for these parameters tend to be outdated or inadequate when compared to data from actual operating systems.
In other words, the reliability and performance of DAF systems have improved with increased use of this technology, but there has not been a corresponding change in the standard design criteria for these systems.
DAF OVERVIEW
While DAF units come in many forms, the systems most commonly produced today are Circular-shaped units using recycle pressurization to provide dissolved air to encourage flotation. As illustrated in Figure 1, a DAF system consists of the following primary components:
Contact cell or coagulation chamber. Provides for the mixing of dissolved air with flocculated particles in the influent to allow for attachment of bubbles to particles. Also provides even distribution of flow across the width of the unit.
Flotation cell. Provides surface area for the flotation of air and flocculated particles (float).
Surface skimmer. Provides the means for removal of float from the flotation cell for transfer to dewatering or other handling. The most Commonly-used system involves a series of flights pulled by a chain drive system with variable-speed, timer-operated drives.
Bottoms skimmer or auger. Provides for the removal of settled solids in the bottom of the unit.
Effluent discharge baffle and chamber. Provides for physical separation of clarified water from flocculated particles and bottoms prior to discharge from the unit through weirs or similar structures.

Air saturation (whitewater) system. Provides the required amount air in the proper form (bubble sizes in the range of 10-100 m), ideally using minimum recycle flow. The whitewater system uses pump pressurization to force air into solution with either the influent stream or a clarified effluent recycle stream. The air-water solution is then injected into the incoming waste water stream to encourage bubble-solid contact and flotation.
Contact Us
S.S. No.-303.3K, Serapalayam Post, Bodipalayam Road, Coimbatore, Tamil Nadu, 641105, India
Phone :+918045815706